Thanks to the latest update (June 2021), you can now export the data out of our system!
Before you begin
Please make sure your app is fully updated (from the App Store / Google Play, as any other app).
Please also make sure the device's firmware is up to date (please see the User manual).
Saving data
You can use our phone app to save measurements.
Open our app (search "Matoha" on the App Store / Play Store if you don't have it installed yet).

Create a Collection (My collections then a + button in the top right corner) or re-use an existing one.

Connect to a machine (green button on the Home screen) and after you have successfully connected, please select Measurement Interface.

Measure a sample - the result of the measurement should appear.

Select the newly created collection and enter any other relevant information about the sample, such as the material or description. Press Save.
Exporting data
Now to the interesting bit. To start the export
Go to My collections. You can use the icon in the top right corner while in the Measurement interface if you wish.

Find the relevant collection and click on Data.

A list of the saved measurements should appear. Press the Export dataset button at the bottom.

Click on Generate link to create a unique link to this dataset. Keep this link safe - anyone with the link will be able to access your precious dataset! You can use the Copy link button to put the link into your clipboard.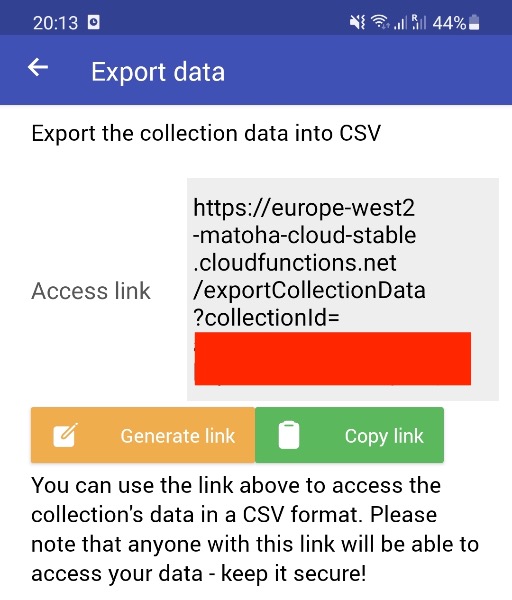 Processing exported data
The data will be exported in the CSV format (comma separated values). The typical contents of an exported file are shown below:
index,_id,timestamp,serialNo,materials,colour,comment,garmentType
0,fb7f,2021-05-24 13:22:39.802,b8f009,100% cotton,,,
1,60ab,2021-05-24 13:22:54.302,b8f009,100% cotton,white,,t-shirt
2,60as,2021-05-25 07:50:08.375,b8f009,50% cotton 50% polyester,purple,,
The first row contains the column names and the subsequent rows the saved data. The columns are separated by commas.
This CSV format can be easily imported into Microsoft Excel:
Create a new spreadsheet / file.

Go to Data -> Get External Data -> From Text. Select the exported file.

Select the data type = Delimited then press Next.

Select the delimiters as Comma and uncheck any other delimiters. Choose the Text qualifier as " and press Finish.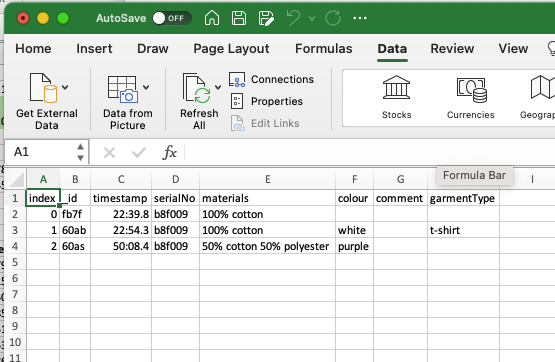 This feature is in BETA - please let us know if you face any issues!
For technical reasons, raw spectra cannot be exported at present.