Creating a new collection
Please watch our tutorial video:
Collections are folders for your spectra (measurements) and you can use them to organise the measured data. The first step is to create a collection (this guide), then you can
save data into it
and export it.
Step 1 - Go on "My Collections"
Open your Matoha app and select "My Collections" from your homepage or from the side menu (the three lines in the top right).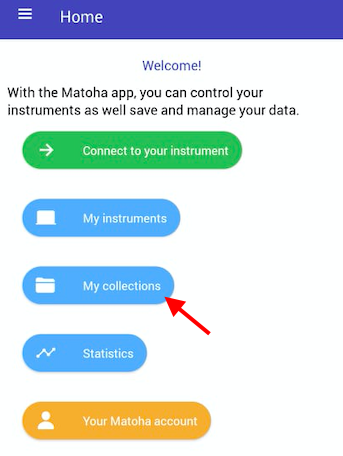 Step 2 - Create a new collection
Press the green "+" icon on the top right corner

Step 3 - Name your collection
Type in a name for your new collection and select the type of machine you have (FabriTell or PlasTell).
Click on "add". This will create your collection which can be found in "My collections".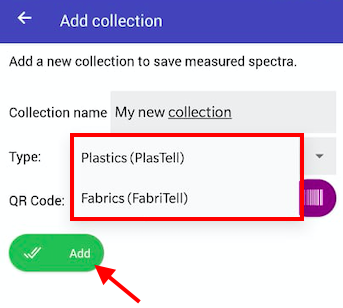 You can create more than one collection, and create collections for both FabriTell and PlasTell, depending on which spectrometers you have.
Deleting a collection
Collections can be deleted if required. Open the collection you want to delete and press the blue "i" button in the top bar.

Here you will be able to see the details of your collection. To delete the collection, press "Delete collection".