FabriTell, your complete fabrics identification solution.
Rapidly identify natural, man-made and blended fibres of all textures and colours in a desktop package that requires no technical expertise
to operate.



Non-destructive
Simply put the sample over the sensor


Rapid
The identification takes about a second.
Identifies blends
The device supports pure fabrics as well as their blends.
With FabriTell, you use industry-standard infrared analysis techniques and cutting-edge machine learning algorithms in a highly accessible and robust package.

In seconds, your FabriTell equipped workers will reliably and quickly identify common natural, man-made and blended fibres across a wide range of common textures, knits and colours.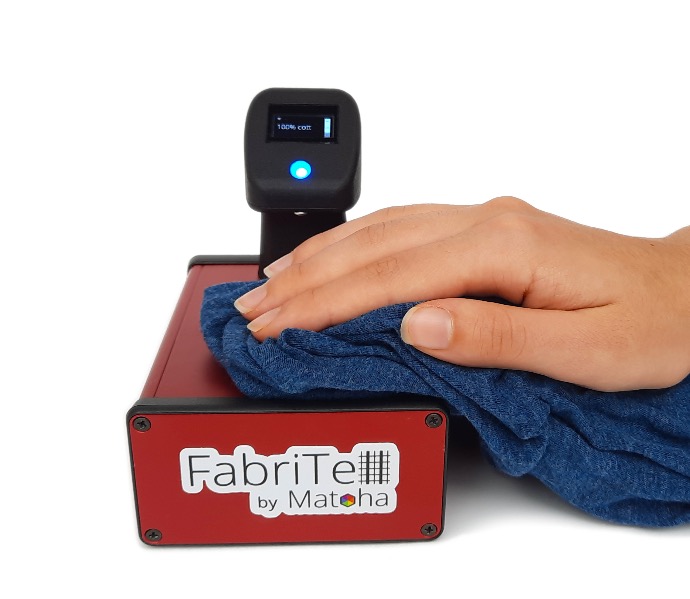 Super-easy to use
Simply place the item over the sensor and the device will give you the answer within about a second. This can be used for rapid sorting as well as a quick quality control of your stocks.
Common materials are supported
Common materials like cotton, polyester, polyamide, viscose, wool, silk, elastane, acrylic and acetate are supported. 17 most common two-component blends of the materials are supported.
Highly compact and portable
The device is size is only 13x13x10 cm (5x5x4 in) and weighs 0.5 kg (1.1 lb). It can be powered by a supplied mains adapter (specific to your country) or an optional battery pack.
Free mobile application included
Our free app for iOS and Android can be used to configure the instrument as well as to save and analyse data.
Demo video
Have a look how it works ;)
Sorting demo
The video shows Martin using our FabriTell machine to sort fabric waste - the machine in the video is an earlier version of the instrument but the principle, of course, remains the same.