PlasTell, your complete plastics identification solution.
Rapidly identify plastics with our highly portable instrument that requires no technical expertise to operate.



Rapid
Each scan takes less than 2 seconds.

Versatile
Identifies all common plastic types.
Super-easy to use
Simply plug the device in and put the sample on over the sensor.
With PlasTell, you use industry-standard infrared analysis techniques and cutting-edge machine learning algorithms in a highly accessible and robust package.

You can control your PlasTell either from its simple physical interface or with a dedicated mobile app.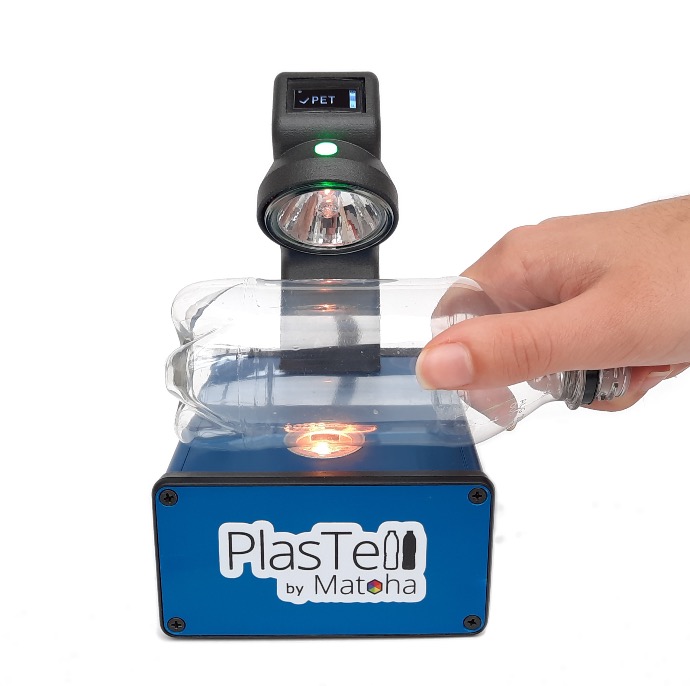 Well-established measurement principle
We use the same technology (NIR) as large plastic waste sorting lines - and thanks to our innovations, packaged into a low-cost and highly portable device.

The device is only 17x15x10 cm and weighs 0.5 kg . It can be powered by a supplied mains adapter or an optional battery pack.
Wide range of plastics supported
PlasTell supports the common plastics (PET, PVC, PE, PP, PS, PC, PMMA, PLA, ABS and more). Specialist plastics can be added upon request.

The instrument's cloud capability, together with our free phone app allow you to gather additional insights into your samples.
Demo video
Have a look how our device works!